Vision and Values
Vision and values workshop
Nowadays, most companies have a well-documented vision. However, all too often neither the leadership team nor the employees are able to translate this vision into everyday practice. This is probably because the vision was formulated by a small group of external consultants and is not emotionally anchored. The primary goal of a vision is to inspire and to provide a clear sense of purpose, enabling employees to identify themselves enthusiastically with their organization and to mobilize energy even in challenging times. Using a clearly structured process, we not only help your leadership team to identify their personal dreams, but also to form a shared and aligned dream for the company's future. The result is a specific, emotionally engaging vision towards which which the entire organization strives.
During this process, shared values and desired behaviors help to guide the team and make them aware of their own underlying beliefs and unbconscious reactions. This strengthens their ability to consciously weigh up and choose behavioral options that are in line with the desired organizational culture.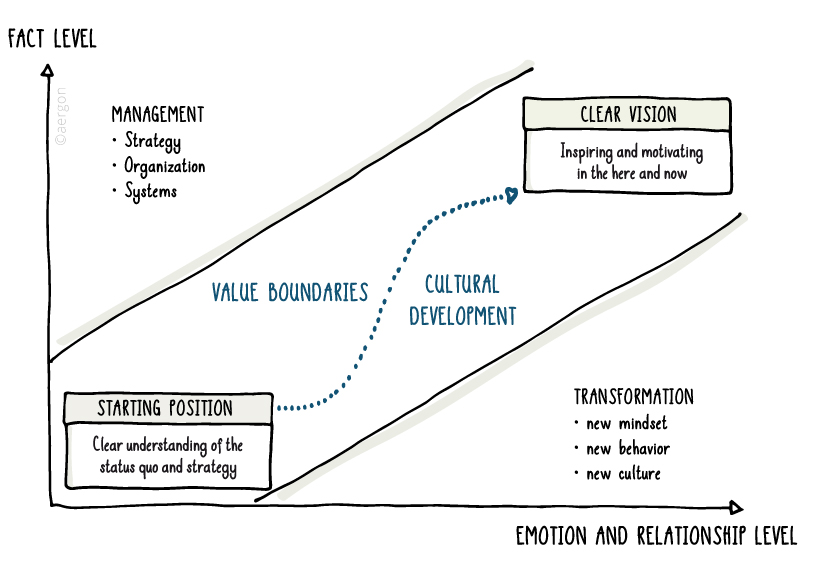 Culture workshop
In the Culture Workshop, middle management joins the leadership team to embark on a shared journey into the future, towards the vision. This journey empowers middle management with the right kind of energy and attitude, and they then plan the first steps along the path towards the vision. This highly emotional experience lays the foundation for the new organizational culture, centered on growth and values, and also serves as a lead-in to the middle-management leadership workshops.