New corporate culture
To find one's way in the New World Order, to create an environment in which to communicate openly and in a spirit of trust, to actively design a new, creative product, company and work environment and to achieve outstanding innovative results, a new corporate and management culture is needed. Although the necessity of change in management culture is now generally understood, the successful implementation of change remains a challenge.
Using existing perspectives and tools, it is not only impossible to implement change, but it is also impossible to grasp what change actually means. Goals and money are no longer enough to motivate employees; it is not only generations Y and Z that want to make a meaningful contribution and to be perceived as individuals.
In addition to their intellect and know-how, successful leaders need to make use of all their senses more than ever, in order to more profoundly hear, see and indeed sense the world around them. And it takes courage to become more aware of one's mostly unbconscious needs, fears and values and resulting behavior.
How do I really appear and act?
What do I not yet know about myself, what do others immediately observe about me?
What can I do differently to achieve a desired effect?
How can I be really useful in the world in which I live?
These are typical questions that managers have historically shied away from, but which need to be addressed by today and tomorrow's outstanding leaders.
Approach
On the path to more economic success, business leaders and executives have always focused on the "id" of a company: its strategy, systems, structure and processes. When pressure rises – as is today the case with globalization, digitalization, etc. – even more initiatives are launched. But according to Keller & Price (2011), in almost 70% of cases these initiatives in their current form fall short of expectations and thus rarely produce the desired results.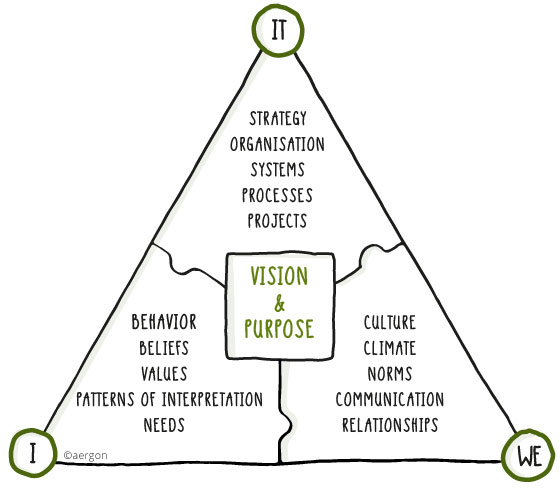 In order to advance these "factual-logical" components, a company needs a "We": a strong management team and employees with partnerships based on trust, a higher purpose and common values. Teams that are properly aligned become sources of economic strength that support their members and unlock existing potential. There are few things that strengthen and maintain motivation as much as successes that are experienced together.
The "We" consists of a group of "I's". Leaders who take responsibility, make decisions and create an environment in which employees can develop according to their potential and create innovations and services that inspire customers, thereby ensure economic success for the company.
---
For any kind of success, the key element is the human one. Because customers are people, a company also needs people and especially in digital times. This is because only human beings have the ability to create values and dreams, to sense expectations and desires, to empathically absorb disappointments and worries and to transform them into solutions and enthusiasm. And this is unlikely to change any time soon. The "I" is therefore the logical starting point of any transformation. In our "Anthropology of Leadership", a clear understanding of the human condition, and thus of itself, is the indispensable basis for the transformation of any company.
The transformation process aims at the fundament of the triangle (see above), the "I" and the "We", and it comprises three distinct layers: personal development, team development and leadership development.
We bring together expertise in economics, psychology and philosophy to form the basis of our well-founded procedural know-how and proven models and tools, with which we empower managers to develop their transformation and leadership skills in a focused and constructive way. Our professional background in psychology focuses on behavioral therapy, motivational psychology, sport psychology, depth psychology and systemic psychology.